Tag Archive:
chillout
Music Therapy Vol: 2 by Dr. Blaster is available for free download.
Artists similar to RJD2: Ratatat, Wax Taylor, The Xx
@RjD2
---
RJD2 – Smoke & Mirrors
---
RJD2 – 1976
---
RJD2 – Ghostwriter
Rjd2's music is a collage of hip-hop production that combines disparate elements to make for soulful, moody portraits of the world. RJD2 (born Ramble John "RJ" Krohn on May 27, 1976) is an American music producer, singer and musician. His sound is comprised of east coast hip-hop roots fused with funk and rock influences. RJD2 was born in Eugene, Oregon; and raised in Columbus, Ohio. He currently resides in Philadelphia. He was signed to the Definitive Jux label where he released two largely instrumental hip hop albums and has produced tracks for many prominent rappers. However, he has now left Def Jux and has signed with XL Recordings. His 2007 album, The Third Hand, is a striking departure from his usual style and features RJD2 singing and playing instruments on nearly every track.
RJD2 originally began his career in Columbus, Ohio, DJing in 1993 with a pair of turntables bought from a friend. He went to high school at Fort Hayes Metropolitan Education Center, where his mother taught dance, and graduated in 1994. He claims his name originates from another friend who referred to him as "Rjd2" in his raps, and the name stuck. Originally working the role of DJ in the Columbus rap group MHz, he later signed to Bobbito Garcia's Fondle 'Em label, releasing the self-proclaimed "mix CD" Your Face or Your Kneecaps. A year later he signed to El-P's record label Definitive Jux and released his solo debut album Deadringer to much acclaim. Rjd2 later collaborated with Columbus rapper Blueprint under the name Soul Position, releasing Unlimited EP in 2002 and 8 Million Stories in 2003. He released his second solo album Since We Last Spoke on Definitive Jux in 2004 and released Soul Position's second album Things Go Better with RJ and AL in 2006 under Rhymesayers Entertainment label. He still continues to produce tracks, working with many independent rappers, such as Copywrite, Cunninlynguists, Cage, DOOM, Diverse and Aceyalone. He contributed a cover of "Airbag" by Radiohead for the 2006 album "Exit Music". 2006 also saw the release of the collaborative record "Magnificent City" with Aceyalone. In 2007, he released the solo album The Third Hand on XL Recordings, which he toured for extensively in '07 and '08.
In 2009, RJD2 established his own label, RJ's Electrical Connections, and reissued Your Face Or Your Knee Caps, The Horror, and Since We Last Spoke as well as a box set entitled "2002-2010". RJD2's new full length The Colossus was released on January 19, 2010 on his own label, which is distributed by The Orchard. On January 7, 2010 a music video for "Let There Be Horns" premiered on Pitchfork followed by a video for "A Spaceship For Now" on March 3, 2010, directed by Michael Ebner, via SPIN Magazine. In 2010, RJD2 remixed indie rockers Yo La Tengo's single, Here To Fall for the Here To Fall Remixes EP which included remixes by De La Soul and Pete Rock.
Artists similar to Nightmares on Wax: Groove Armada, Massive Attack, Wax Taylor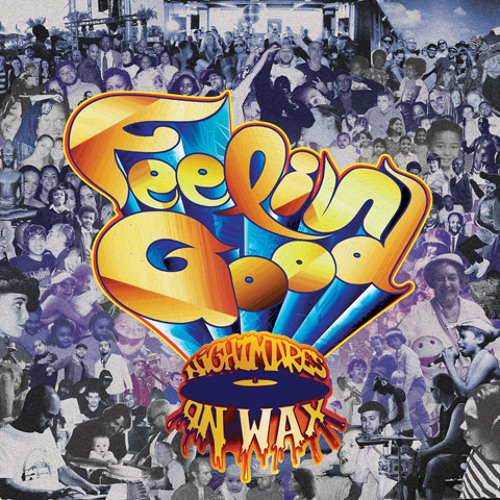 @NightmaresOnWax
---
Nightmares on Wax – So Here We Are
---
Nightmares on Wax – Keep On
---
Nightmares on Wax – Be, I Do
---
If you throw a little bit of acid jazz, funk and soul into a musical blender, the result is a rejuvenating chillout mix from Nightmares on Wax. This sound features downtempo roots with funk, soul and jazz influences. The name Nightmares on Wax is an acronym for NoW, as the music has been described as "the sound of N.O.W." to exhibit pure honesty and artistic freedom.
Nightmares on Wax consists of a English based DJ, George Evelyn, also known as DJ EASE (Experimental Sample Expert). Evelyn got his start in the music industry through an interest in hip hop and on joining a local breakdancing crew. George Evelyn currently resides in Leeds, UK while he became one of the brightest spots on the post-rave British techno map since the early '90s. Nightmares on Wax formed in the late '80s in West Yorkshire as an extension of Evelyn and company's b-boy crew the Soul City Rockers, NoW's first singles, "Dextrous" and "Aftermath," were both highly regarded as the latter shot into the U.K. pop singles Top 40. The singles laid down a good deal of the groundwork and inspiration for the downtempo experimental hip-hop/electro-funk artists in the following years.
After Nightmares on Wax dissapeared on a four-year hiatus, Evelyn resurfaced with a track on the Mo' Wax Headz compilation and Smoker's Delight basically an instrumental hip-hop album with a distinctively electro downtempo eclecticism. Evelyn stated in a press release,
"Soul music is the earliest form of hip hop. That's why I want to create it. It might seem like recreating what was done in the past, but what I want to do is merge soul and hip hop together. That's why I'll bring in the live aspect of what happened back then into current hip hop trends. That's the angle I'm arriving at." -Nightmares on Wax
Nightmares on Wax produced the first new track by De La Soul in several years, included on an EP (Sound of N.O.W) featuring the rap pioneers. Following not far behind was a volume in the Studio !K7 mix series. Two years later, Evelyn delivered his fourth LP, Mind Elevation. A longer gap preceded the release of his next proper LP for Warp. The Though So album was released as the final album for Warp in 2008. Although Nightmares on Wax created a sound that is not easily classifiable, the distinct chillout sound is what makes this artist a true expert in the musical craft.